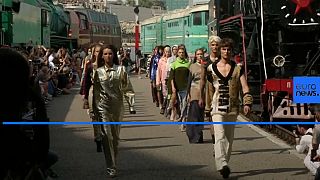 Train carriages instead of backstage and a platform instead of runway - a young Ukrainian designer Jean Gritsfeldt used Kiev central railway station to demonstrate his 2019 spring-summer collection at annual Ukrainian Fashion Week.
Exotic fashion show kicked off on Sunday (September 2) afternoon. Models got off a retro train and sashayed across platform #14 which serves as an open-air museum of railroad transport, one of the most extraordinary Kiev exhibitions.
"Electrogipsy" male and female collection by Jean Gritsfeldt had clear connection with the scenery where at least one electric locomotive was exhibited along with old luxury wagons designed in the beginning of 20th century for the Soviet Union officials.