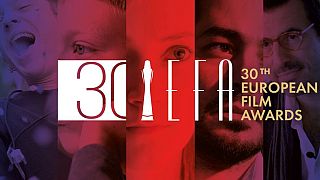 Final preparations are underway in Berlin for the 30th European Film Awards - honouring the greatest achievements in cinema on the continent.
Veteran German director Wim Wenders is the President of the European Film Academy, organiser of an event that began when Europe was still separated by the Iron Curtain.
"From the start, we did not want to make a big fuss of the award ceremony with: 'And the Winner is!" he told Euronews.
"We wanted every nominee to feel honored and for it to be a celebration of European cinema."
Two prize winners this year are already known:
French-American actress and filmmaker Julie Delpy who will be rewarded for her 'European Achievement in World Cinema.'
And Russian filmmaker Aleksandr Sokurov will receive the 'Lifetime Achievement Award' for his outstanding work in the field of directing, dramaturgy and cinematography.
Tipped for glory as this year's star film is the Swedish social satire 'The Square'.
Award winners will be revealed this Saturday evening on Euronews.