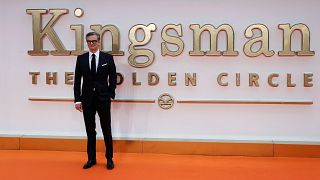 Julianne Moore became the villain in "Kingsman: The Golden Circle" partly thanks to a text from Colin Firth.
Speaking at the star-studded world premiere of the action sequel in London, Monday (September 18), Moore revealed Firth had begun by asking her what she thought about the 2014 hit he'd made with director Matthew Vaughn, "Kingsman: The Secret Service."
"Colin Firth texted me and asked if I'd seen 'Kingsman' and did I like it, I said, Oh yeah, I loved it, my kids loved it'," Moore recalled, "and he said 'Well that's great, because Matthew wants to offer you the villain in 'Kingsman 2'."
"I wasn't going to take no for an answer this time," said Firth, explaining he had been wanting to work with Moore again since they shared the screen in 2009 drama "A Single Man."
"Julianne and I worked together about seven years ago or something, and it was one of the best experiences I've ever had and we've stayed very good friends, but trying to reel her in on another project hasn't been the easiest thing, so no, I was quite determined this time. She was top of Matthew Vaughn's list, he was just a bit worried about whether she was going to say yes."
Director Matthew Vaughn returns to his hyper-stylized spy world with an ensemble cast packed with A-listers, also including Jeff Bridges, Channing Tatum, Halle Berry and Pedro Pascal.
Taron Egerton and Mark Strong reprise their roles as well-tailored, Scotch-loving, British super-spies, forced, by an attack on their base, to work with an American secret organization: Statesmen.
"It was fun, I could play around with the culture clashes and get to work with some icons, so nothing to complain about," nodded Vaughn.
Tatum performed his Statesmen role in a deep Southern accent.
"I'm pretty sure noone understood anything that I said in the whole movie," he admits, "I'm talking like, 'You smiling like a dead pig in sunshine' and stuff, so it's real silly, but super fun to do."
It's bigger and better than the first film, promises Egerton, who reprises his very first movie role to play new Kingsman Eggsy.
"I think Matthew recognized that it was necessary that we do what we did in the first one that everyone loved, so there's elements that we revisit," he notes, "but also .. there's also lots of new and exciting things that you haven't seen before. It's like the first one, but with a shot of adrenaline. And Elton John."
"Well, you know, it's not a matter of just turning it up to 11 you know, faster and funnier," insists Bridges. "It's really – I guess what it does have in common with the first one, is surprises, you know, it's going to take you in different directions that you're not expecting."
Now that fans know that Colin Firth is back as Eggsy's mentor Harry Hart – who was seemingly killed off in the first film – "Narcos" star Pascal is warning the Brit he intends to have a little fun at his expense.
"I've got so many videos that I can release once the movie's out, now that everyone knows that Colin is in it and stuff like that" he smiles, "Social media is just going to get so much behind the scenes Colin Firth. Tortured by Pedro Pascal, it's going to be a new page, baby."
Also featuring a "beauty bot" robot styled after Vaughn's wife, former supermodel Claudia Schiffer, "Kingsman: The Golden Circle" is on worldwide release from this week.
Reuters