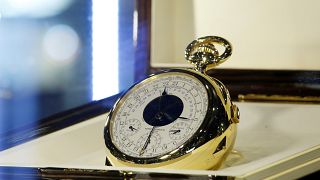 One of the world's most sophisticated mechanical watches is looking for a new home.
A decade in the making, Patek Philippe's Calibre 89 is no ordinary watch.
It weighs more than a kilogram and is almost 10 cms across. And it is likely to cost you up to €10 million.
Four of the watches were made to mark the company's 150th anniversary in 1989 – in white gold, yellow gold, rose gold and platinum.
Powered by more than 1,700 individual components, it tells the time, date, phases of the moon, date of Easter, sunset, temperature, and even indicates how long it will last until it needs winding up.
In fact, you could probably describe it as the original smart watch.
It will be sold by Sotherby's in Geneva on May 14.