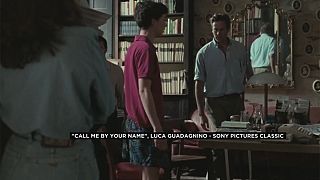 "Call Me By Your Name" is an adaptation of a 2007 novel by Egyptian-born writer André Aciman.
Set in the early 1980s, this coming of age drama follows the love affair between a teenager, Elio and his father's new American assistant, Oliver staying in his parent's villa during the summer holidays.
"This is a movie about the specific unframing of how you love and when you love. It happens that Elio and Oliver are two boys but I think this book, this movie that is also from this book in particular, it's an ode to the unleashing yourself to the passion – whatever it is and from wherever it comes and wherever it goes," explained Luca Guadagnino, director/co-screenwriter.
The film tackles homosexuality at a time when same-sex attraction was not easily accepted.
The movie starring Armie Hammer and Timothée Chalamet, was already a hit with audiences at the Sundance Film Festival where it had its world premiere earlier this year and has also received mostly positive reviews from Berlinale's film critics.
Luca Guadagnino's Call Me by Your Name has just premiered at #Berlinale2017. It's his best film by some some margin: https://t.co/mJJknUIlISpic.twitter.com/aiuTdXrRxH

— Little White Lies (@LWLies) February 15, 2017
"I think everyone's going to have their own experience with it so some people will have a gay resonance with it, or a bisexual resonance, but the coolest thing for me after Sundance has been, the affect that was present after finishing the book has been present with a lot of viewers with the movie which is that it's a love story. It's a celebration of love," opined Timothee Chalamet.
"Call Me By Your Name" screened at the Panorama Special section of the Berlin International Film Festival last Monday.