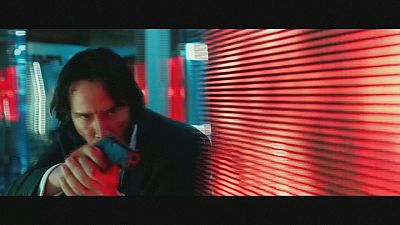 John Wick a hitman in the form of Keanu Reeves is back in a noir action thriller.
The film sees Wick come out of retirement to honour a blood oath.
Reeves gets together with some old friends from the 'Matrix' trilogy to make the John Wick 2: "It's very rare and to come together with artists that you worked with and created friendships with and then to go on another artistic endeavor … it's been, it was really special to work with Lawrence again and was great to work with Chad and his vision of 'John Wick.' Yeah, just one of the best experiences of my life,"
said Reeves.
Neo. Trinity. Morpheus. #TheMatrix reunites at the #JohnWick2 premiere! (Photo by Todd Williamson for GettyImages</a> and Getty Entertainment) <a href="https://t.co/zdQJiAxug5">pic.twitter.com/zdQJiAxug5</a></p>&mdash; John Wick: Chapter 2 (JohnWickMovie) January 31, 2017
Fishburne agrees: "You know, I mean we spent probably like five or seven years making those movies together. So and we remained friends over the years. So yeah!"
The Boogeyman and his dog walk into a hotel… See what happens next in #JohnWick2 – Hitting theaters February 10. pic.twitter.com/ojlEuFHdWg

— John Wick: Chapter 2 (@JohnWickMovie) January 31, 2017
Reeves went through a tough training regime as the director Chad Stahelski testifies:
"I think the best way to explain it is that you don't work so much on how to make the story better, you work on how to make the ideas better, you work on how to make yourself better meaning that we started with Keanu and if we trained him this much for the first one then we trained him THIS much for the second one."
The film is on worldwide release this month.