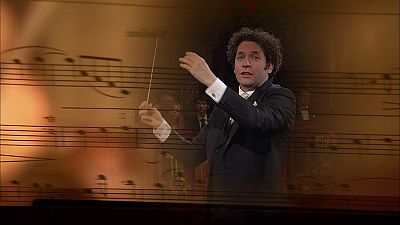 Every year on January 1, music lovers gather in one of the world's finest concert halls, Vienna's Musikverein, to celebrate the start of the new year to the sound of waltzes and polkas by the Strauss family and their contemporaries.
The New Year's Concert performed by the world-renowned Vienna Philharmonic Orchestra is broadcast live to more than 90 countries, and this year under the baton of Gustavo Dudamel, the event's youngest-ever conductor.
"You cannot imagine how happy I am, how moved I am, how committed I feel to it, and the fun it is to be here and to dance all those polkas and waltzes, together with the Vienna Philharmonic Orchestra," said Dudamel.
"In our world today, where there are more and more borders and walls erected between us, this concert unites millions of people and it unites them through music. The bridge is music and beauty, that's why I always say that music and art need to be a fundamental human right for everyone," Dudamel added.
Andreas Grossbauer is one of the Orchestra's first violins, and its chairman. He highlights the concert's most captivating moments for Euronews.
"Everybody is deeply moved during Otto Nicolai's 'Moon Choir' for example, a short piece composed by our founder," Grossbauer said. "It is a choir that sings from the organ down into the audience literally, and I felt as if they would send silver dust down to those listening. Even Gustavo Dudamel himself is deeply touched by this."
With 20 pieces, seven of which are new additions this year, Vienna's New Year concert demanded many rehearsals Nothing that could daunt Gustave Dudamel.
"It is a very difficult concert, because it is very beautiful and very natural music but in big quantities," Dudamel told Euronews. "It's like cooking in a way, you can be a good cook and cook for yourself, for your friends, for your wife, but when you have to cook for many people the menu is gigantic because there are many pieces. So it is all a bit more complicated but at the same time I don't see this is as a suffering, because it's to difficult or something, really not! This is also part of the fun, sometimes fun has its complicated side, too."
"The Danube Waltz is the secret national anthem of all Austrians," said Grossbauer. "Or take the Radetzky March, I did not understand for a long time what is so special about it. But I do understand that very well now. The audience wants to be part of this special event. It is like a big relief, almost like a redemption, and this is how I lived it, too, since my first concert.