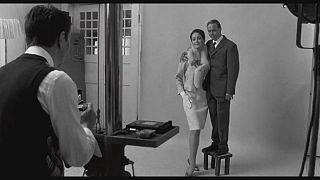 The documentary 'The Valley of the Wolves' leads our pick of European. Over a three-year period spent bivouacking through the countryside the director Jean-Michel Bertrand tells how he tracked down a pack of wolves.
His film develops to show how, as he watches the pack he is able to get closer to the animals and finally to be accepted.
Against all expectations predators are caught on camera showing some intimacy. But the film also questions the limits of such intimacy.
Mimosas
"Mimosas" won the Grand Prize in the "week of criticism" in Cannes. The Hispanic-Franco-Moroccan co-production tells the story of a caravan which accompanies an elderly and dying sheikh through the Moroccan High Atlas.
His last wish is to be buried beside his relatives. But death does not wait. The caravaners, fearing the mountain, refused to continue carrying the corpse. Said and Ahmed, two thugs travelling with the caravan, say they know the road and that they will lead the body to its destination.
Full-house for Oliver Laxe's Mimosas – one of the most anticipated films of the Marrakech festival ExeterModLangs</a> <a href="https://t.co/4oXHMDlk3A">pic.twitter.com/4oXHMDlk3A</a></p>&mdash; Exeter Film (ExeterFilm) December 6, 2016
Olli Maki
A world title fight and a celebrity life – that's the prediction for Olli Maki an amateur boxer from the small Finnish town of Kokkola.
It is the summer of 1962 and the protagonist's manager has set up a fight for the world featherweight title in the Helsinki Olympic Stadium.
The match would be one of the biggest events in Finnish sporting history. All Ollie has to do is lose weight to make the weigh-in and to concentrate.
But the future champ is falling deeper in love with his friend Raija.
The film is a Finnish, German and Swedish co-production.
Chalka Chinga
This is the second movie of that title. It is a German Turkish co-production and hoping to capitalise on the huge success of the first movie which was released in 2011.
The almost slap-stick comedy rattles along at a furious pace as it follows the hilarious adventures of cousins who set out to realise their ambitions to become musicians.