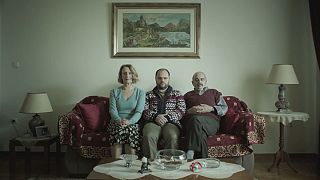 Greek cinema featured heavily at the 57th Thessaloniki Film Festival. Fifteen local films had their premieres in Thessaloniki, although three had already been shown at other international film festivals.
"Amerika Square" is Yiannis Sakaridis's second movie. It is a sweet social drama, whose characters struggle with xenophobia, intolerance and alienation. Amerika Square is a square in Athens, transformed over the last 15 years into a contemporary Casablanca.
Three stories reveal the opposing forces in the square. Two friends, Billy, a tattoo artist, and Nakos, an "ordinary" Greek racist, come head to head in the square because of the journey to survival of Tarek, a Syrian refugee.
The world premiere was held in Busan festival in South Korea. It was also screened in Chicago and Kolkata. Next stops are film festivals in Germany, Italy, Turkey and Switzerland.
"I search for a film form, which has to do with new neorealism. I always love humor and a small dose of lyricism, in cinema. I don't like films which are melodramas, dealing with issues that are obviously very emotional," says Sakaridis.
The Awards of the 57th #Thessaloniki International Film Festival filmfestivalgr</a> <a href="https://t.co/sMYPPFbLpP">https://t.co/sMYPPFbLpP</a> <a href="https://twitter.com/hashtag/Tiff57?src=hash">#Tiff57</a> <a href="https://t.co/8lq01SRi9l">pic.twitter.com/8lq01SRi9l</a></p>&mdash; George Roussos (baphometx) November 14, 2016
"Afterlov" is a funny, poignant post-love story between two people who refuse to grow up. Nikos, a 30-year-old broke musician, is taking care of a luxurious villa at the height of the Athens summer. Still unable to get over his recent break-up with Sofia, he figures this is a unique opportunity to get some answers and he invites her over for the weekend. Nikos locks himself up in the house with Sofia and refuses to let her leave until he finds out why they broke up.
The world premiere of this romantic comedy was in Locarno where it got the award "Filmmakers of the Present". It won also Best Artistic Achievement Award and Special Mention for Haris Fragoulis, (the actor), in Thessaloniki.
It is Stergios Paschos's first feature-length film.
"It is a very funny film. Especially in the first part. After that, it is gradually transformed to something else. I would describe the film like this: You begin for a walk in the countryside with sunshine. You walk, you talk and you don't see time passing. Then the night comes, it rains and you are, unintentionally, in a dark and hostile forest," he says.
"Park" is another debut feature, a coming-of-age story from Sofia Exarchou.
Stuck inside Athens' Olympic Village, a group of teenagers wander around the ruins playing distorted versions of Olympic sports and organizing dog matings for money.
Dimitris, (17), along with Anna, a retired athlete of 22, will try to escape the confines of the village for the seaside resorts. During their visits and as they penetrate more and more into the lives of foreign tourists, Dimitris' longing for acceptance is tested in brutal ways.
Isolated and abandoned, surrounded by decaying sport venues, the Athens Olympic village is today a deserted place. The film is a sarcastic comment about this big event.
"The irony and the paradox is that this event, (the Olympic Games), lasts only for 10 days. It is only a show. Nobody knows or wants to know what is left behind, when the games are over. This is my question. This element urged me to write the script of this film, to find an inspiration. To show all these people who are left behind and how this Greek Olympic village is today, 10 years after the Games. This is something puzzling, when you watch the film.," says Exarchou.
"Park" premiered in Toronto. It won the New Directors' Award at the San Sebastián Film Festival. It was also screened in many international film festivals. Next stops are Brussels, Lodz and Tarragona. It will be distributed in Spain, England, Australia and Serbia.