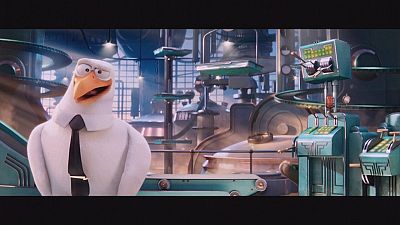 "Storks" are the new long legged heroes in this animation for autumn, the big beaks have diversified into an International shipping, courier, and packaging service until something goes wrong.
The film uses the vocal talents of Jennifer Aniston and Kelsey Grammer:
"What happens is when you get in a room together with a bunch of people and you're sort of in that creative zone you can start to feel the saliva starts to run a little more and you know things are cooking, the breath doesn't seem conscious anymore. It just comes when it's the right time. Then I guess I can offer up something that seems like improvisation."
STORKS Movie Clips Released https://t.co/w9J0U347Ulpic.twitter.com/vtPFqA8xwd

— ComicBook

NOW

! (@ComicBookNOW) August 28, 2016
Andy Samberg voices Junior, the company's top delivery stork who is about to be promoted when he accidentally activates the baby making machine, producing an adorable and wholly unauthorised baby girl.
Samberg enjoys voicing animated features: "For me it's flexing similar muscles, which is just joke telling and trying to think of funny stuff and performing with like-minded people. And it's also, I mean really honestly, it's a cool way to be a part of a big movie and not have to do a lot of time commitment for it."
The film will be delivered to a cinema near you sometime in September.