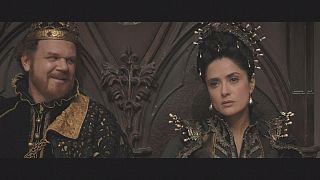 'Tale of Tales' is the first English language film by Italian directer Matteo Garrone.
#TaleOfTales starring salmahayek</a> is in cinemas on June 17th! <a href="https://twitter.com/hashtag/TheGNShow?src=hash">#TheGNShow</a> <a href="https://t.co/5K6MdI5AD6">pic.twitter.com/5K6MdI5AD6</a></p>&mdash; Graham Norton Show (TheGNShow) June 3, 2016
The movie is based on the Pentamerone the 17th century fairy tales of Giambattista Basile.
Garrone takes three themes from the collection that focus on women.
Tale of Tales – A gorgeous pop-up book of fractured, nightmarish, metaphorical fairytales! https://t.co/kRS1uWgKj2pic.twitter.com/SscYB4MRZs

— Vancouver Film Fest (@VIFFest) June 5, 2016
One is desperate for a child, one desperate to be young a beautiful again and while another tries to escape her vile troll husband.
Garrone has a distinctive approach to movie making:"It's always the same. I was a painter so my approach is always very visual and I like to find characters, which I can create a relationship and I love.I like to be close to them and to be human and love them and try to make a movie that can talk to the heart and not to the head."
Salma Hayek jumped at the chance to appear:
"It was kind of like a dream come true. It was one of those things that you see so far away, because it's European cinema and Matteo Garrone usually doesn't even work with actors for the main roles and I was so, so happy when he called."
Happy earth day! This picture is from my movie Tale of Tales. Today in the US#EarthDay#TaleOfTalespic.twitter.com/dT694c9YM9

— Salma Hayek (@_salmahayek1) June 5, 2016
In another story Violet, a princess played by Bebe Cave, has the displeasure of being married to a grotesque troll.
The film is out in the UK and Ireland mid-July.