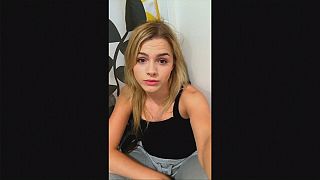 For the latest technique in filmmaking you need look no further than 'Sickhouse' a horror movie filmed entirely on Snapchat.
It stars stars social media star Andrea Russett.
The film follows a group of friends obsessed with social media who go on an excursion into the woods to explore the folklore of an abandoned, and haunted cabin.
First movie filmed on Snapchat</a>, &#39;Sickhouse&#39; starring <a href="https://twitter.com/AndreaRussett">AndreaRussett, debuts on Vimeo</a> <a href="https://t.co/eGed081jHh">https://t.co/eGed081jHh</a> <a href="https://t.co/i2eR1HrK1V">pic.twitter.com/i2eR1HrK1V</a></p>&mdash; Variety (Variety) June 1, 2016
Because Snapchat posts are deleted after 24 hours, the clips were compiled into an actual full-length feature.
Andrea Russett Actress & digital celebrity takes up the story: "It's very different especially because at first, I wasn't acting as a character, I was being myself because it was my Snapchat, so we had to start off being very much myself and then gradually becoming this other character, so that was kind of interesting to take it from literally being myself to someone else without people really noticing, I guess. And yeah, the whole one take type thing. We could obviously do it a few times, but you do it once and then if you really like that take, but you're like we could do it better, you can't save it and go back, you know? So that was a little tricky but we made it work."
Sickhouse, the first #horror movie filmed live on Snapchat, is now available on Vimeo. https://t.co/VoTWJbYFx7pic.twitter.com/WtmgYwXOop

— ScarePop (@LA_Paranormal) June 2, 2016
The film was scripted and shot over five days and Initially released via actor Andrea Russett's Snapchat account, the footage has since garnered over a million views.