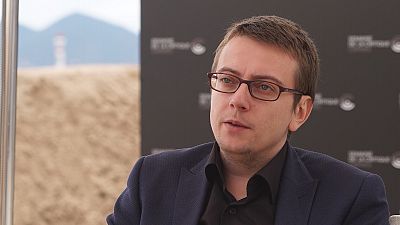 The Cannes Film Festival is not just about competition. And it's not simply about glitz and glamour.
There are more strings to its bow. Such as critics week, which presents the first or second film ever done by a film maker.
This week we have the Turkish director Mehmet Can Mertoğlu who talks about his film Album.
He wrote the movie like a photo album with a succession of fixed scenes and very little dialogue.
FEATUREFILM IN COMPETITION : #ALBÜM by #MehmetCanMertoğluhttps://t.co/GrxM2uQJah#SDLC2016pic.twitter.com/DyvyTMjKiA

— SemaineDeLaCritique (@semainecannes) 29 April 2016
Mertoğlu says: "I had the idea from the start when was I writing the script, I knew I was going to shoot the film like this, and this is how I built the rhythm of the film, I knew it from the start.
And as a movie lover, I like films that give space to the audience."
The story is about a couple who want to adopt a child but set out to stage a pregnancy to make everyone believe that the unborn baby is theirs.
The film shows a Turkish middle class, that is narrow and materialistic, and an absurd bureaucracy.
Mertoğlu says he has many influences.
Mertoğlu adds: "Roy Andersson is obviously an influence for me. But there are many others, there is Jacques Tati, Pierre Etaix, Elia Suleiman, and there is also Cristi Puiu, Corneliu Porumbiu from Romania.
"These are the directors who I really like, they have their beats in the film. I could name others directors but let's stop there."
"It's obvious that all the characters in the film are kind of portrait of today's Turkey," Mertoğlu says.
"In the sense that they were not specially-chosen characters, but ordinary characters that you can run into wherever you are in Turkey. So, I can't deny that it's a portrait of the people of Turkey.
Album will be distributed throughout Europe in the autumn.