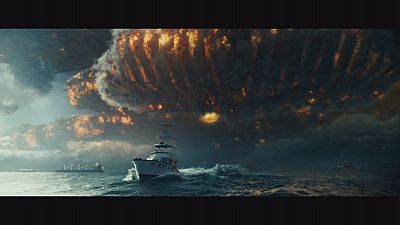 Twenty years after the enormous success of apocalypse movie 'Independence Day', Roland Emmerich is back with the long-awaited sequel.
'Independence Day: Resurgence' hits theatres in June, as the original film is re-released on Blu-ray and digital HD.
Emmerich and cast members hit the red carpet for a special screening in Los Angeles. The original movie, which was made on a relatively small budget, was a massive hit, grossing more than $800 million dollars after its release.
"It was the biggest low-budget movie ever because at that time I think we had like $70 million. 'Twister' had already had $110 million and 'Mission Impossible' had $120 million. So we were kind of like the little poor cousin," smiled Emmerich.
'Independence Day: Resurgence' reunites nearly the entire cast of the original movie except Will Smith. Among them are Bill Pullman, Vivica A. Fox and Jeff Goldblum, who are delighted to be back on board:
"It felt the same when I got the call from my agent saying 'You're going to be in the sequel – they are keeping Jasmine alive', I was very thrilled to know that I was going to be a part of the sequel – because this was the movie that launched my career and I'm grateful for that," said Vivica A. Fox.
Asked about a sequel to the sequel, Goldblum said: "I know there's ideas around about doing another one. But that's way in the future. Hopefully not as way in the future as this one was in relation to the first one. Because it would be fun to do more with all of those people."
The new installment welcomes newcomers like Liam Hemsworth, Charlotte Gainsbourg, and Maika Monroe.
'Independence Day: Resurgence' is on global release from June 22.