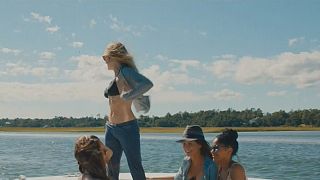 'The Choice' is the 11th Nicholas Sparks novel to be made into a film.
It tells the story of Travis Parker, a successful man with an enviable life. Things get complicated when Gabby moves in next door. What blossoms is an inspiring story about love, trust and making choices. Slowly the pair start to fall in love although Gabby is in a serious relationship.
Actors Benjamin Walker and Teresa Palmer, in the lead roles, insist Gabby is not considered to be cheating on her partner.
"I just feel like life is not black and white," said Palmer. "This movie actually helped me eradicate some of my own judgments surrounding cheating and those sorts of things, because she truly is in a battle between her head and her heart. She doesn't want to inflict pain on anyone or make anyone else suffer but she has to lean in to what her heart sings and that is being with this man and yes it's messy and crazy and scary and confusing but that's life. Life is full of peaks and valleys."
"It's that level of judgment that is kind of ridiculous," added Walker. "And I feel like if it was a man in the movie there would be this kind of double standard. It would be understandable and I think that's ridiculous."
Sparks adaptations have a history of box office success including movies like 'Message in a Bottle' and 'The Notebook'.
'The Choice' by Ross Katz is released just before Valentine's Day.