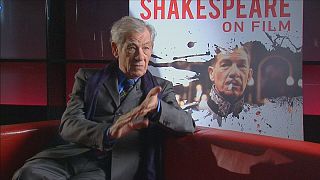 Sir Ian McKellen is set for a new role. The British actor who has tackled Shakespeare's works on stage and screen is to be a bus tour guide for the forthcoming festival, ""Shakespeare on Film"":http://www.bfi.org.uk/shakespeare-film-0.
The 76-year-old will take fans to London's St Pancras station and Battersea Power Station, locations used in the filming of "Richard III" a 1995 film in which he played the tyrant king in a 1930s setting.
How do you get on @IanMcKellen's Shakespeare tour bus?

"YOUSHOWYOURPASS!!"

January 26, 2016
"Shakespeare ain't easy and no one should pretend that it is, he is, the plays are, but the difficulties are for the actors, and the directors and the designers to solve – not for the audience. The last thing I'd recommend for someone who doesn't know anything about Shakespeare is to read him. That's not easy, I think it's silly to give a child Shakespeare to read as it would be to give them a score of a Mozart opera and say there's the opera, you read it," the actor opined.
The British Film Institute, which is behind the festival, will also host events looking at how filmmakers have been influenced by Shakespeare's works, which, according to the actor continue to be relevant 400 years after the playwright's death.
"The beauty of Shakespeare is that he was so perceptive about human nature. He was so interested in the whole range of people from the top of society to the bottom and everything in between, and he was so accurate in understanding our emotions, and our feelings, and our motives for doing things that he goes on being relevant," Sir Ian said.
The British Film Institute's programme of events will open on March 31 just a few weeks before fans mark 400 years since Shakespeare's death on April 23,1616.