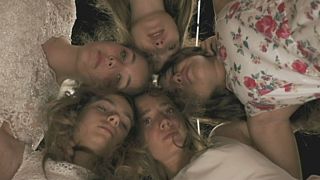 These are Euronews' picks of the best films of 2015. Our selections include intimate works, comedies and politically-engaged movies from around the world, each offering a unique vision through the eyes its director.
'Rams'
Grimur Hakonarson offers us a moving tale about rural Iceland in 'Rams'. Two brothers, both sheep farmers, have been living side by side without speaking to each other for 40 years. An outbreak of scrapie, a highly contagious disease that attacks the sheeps' brains, forces them to start talking again.
With simplicity and humour, the director draws a loving portrait of a deeply-rooted farming culture where values are solid and change does not come easily.
'Journey to the Shore'
Kiyoshi Kurosawa is known for his horror flicks, but his latest, 'Journey to the Shore', is far from that genre. A love story about loss and mourning, it tells the tale of Yusuke who invites Mizuki on a journey to meet those who were important to him.
But Yusuke is in fact dead – he died three years ago and is making a shock return to the life of his widow. The journey takes them through rural Japan in a world of spirits and ghosts where dreams and reality collide.
'The Lobster'
So what is love? Greek director Yorgos Lanthimos asks the question in his latest film 'The Lobster'. And he does so in a rather unusual manner.
The film, starring Colin Farrell and Rachel Weisz, is set in a society where celibacy has become a crime, and where anyone who is single is arrested and sent to a hotel where they have 45 days to find their soul mate. If they fail, the are transformed into the animal of their choice.
It is often dark, sometimes hilarious, and not quite like anything you have seen before.
'Mia Madre'
Made by Italian director Nanni Moretti, 'Mia Madre' paints the moving portrait of a woman faced with her mother's death.
The movie revolves around Marguerita, a successful film director. Between the demands of her professional life and her own trouble in accepting the loss of her mother, Marguerita is caught in an emotional storm. Though Moretti chose a woman as the lead protagonist, the film is based on his own experience of loss.
'Arabian Nights'
Provocatively called 'Arabian Nights' ('As Mil e Uma Noites'), the latest film by Portuguese director Miguel Gomes, is a series of three feature-length volumes that mix deadpan magical realism with sobering social reportage.
Gomes denounces the wild austerity which has plunged Portugal into its deepest crisis in decades. Mixing the factual and the fantastic, the director gives a voice to those affected by rampant unemployment and paints a satirical portrait of the politicians and International Monetary Fund (IMF) experts who scrutinise the country's accounts.
'Mustang'
Franco-Turkish director Deniz Gamze Erguven's debut feature 'Mustang' is an ode to freedom that denounces a society dominated by an ultra-conservative morality.
It is the end of the school year in a remote Turkish village. Five orphaned sisters join a group of boys from their class for some innocent fun at the beach.
A scandalised neighbour reports them to their grandma, who accuses them of acting like whores. The girls are subjected to virginity tests and locked inside their own home for the rest of the summer – an imprisonment that fails dampen the girls' lust for life.
'The Second Mother'
'The Second Mother' ('Que Horas Ela Volta') is a comedy that explores social inequalities in Brazilian society. The film tells the story of a maid working in a wealthy household in Sao Paulo. Considered a member of the family, Val has raised her boss' son as if he were her own, but she sleeps in a small room at the back of the house.
One day, the maid's daughter arrives in town to take her university entrance tests. She does not accept her mother's position as a servant – and the balance within the household implodes.
With this intelligent and humorous film, Brazilian director Anna Muylaert avoids cliches and takes the viewer down unexpected pathways.