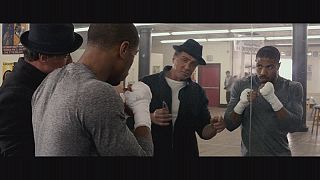 It's a tough one the fight game and its all about knowing when to step away from the ring. Some can't and pay the price..and then there is Rocky Balbao,
It was supposed to end in 2006 but Sylvester Stallone is just like those prize fighters looking for one more shot at the title, one more pay day.
"Creed" is the title of his latest movie. And on the red carpet to promote the return of the Rocky franchise after a nine year gap the star made it clear the decision was not made for financial reasons.
"It's almost biographical. So the feel of this is extremely personal, as a opposed to just a movie: 'Well let's see if we can keep the film going on, perhaps for financial reasons'. This was never one. It took about two-and-a-half years of going, 'Should I do this? Should I do this?'. Sometimes I have to admit I was wrong. He was right," he told reporters.
The movie tells the story of the son of Apollo Creed – Adonis Johnson Creed who asks Rocky Balboa to be his trainer.
Writer/director Ryan Coogler's father was a huge "Rocky" fan and the film is in part a son's tribute to his father.
"I think from the time I wanted to make movies, I knew I would want to make a boxing movie at some point. Just because I think they're so great. They translate to cinematic language so well. And they always work. No matter what, the sport itself translates to filmmakers so well. And I grew up a 'Rocky' fan. I never knew I would make a 'Rocky' movie until I got the initial idea. I always had the idea of making a boxing movie one day," he explained.