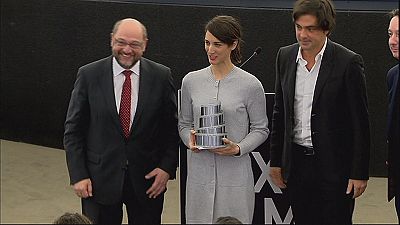 Another award for Deniz Gamze Erguven's "Mustang" one of this year's film sensations. The French-Turkish-German co-production has been awarded the European Parliament's LUX Prize for 2015. It topped the other two finalists Jonas Carpignano's "Mediterranea" and Kristina Grozova and Peter Valchanova's "Urok" – The Lesson.
The movie takes its title from the wild horses that gallop on the endless prairies of North America. It is set in a Black Sea town and follows five Turkish sisters who have their basic freedoms stripped from them as they become women.
It took the Cannes Directors' Fortnight Europa Cinemas award. France has selected it as its submission for the Oscars' best foreign-language film.
Euronews talked to Deniz Gamye Erguven after the ceremony. Correspondent Margherita Sforza began by asking her if there was a particular episode that inspired her to write the film.
"There are a lot of things that are real and inspired by the life of my family that consisted of many girls and women over two generations. As the main character in the film I am the youngest of the family. So I do have roughly the same point of view.
'And the situations for the foundations of each scene in a certain way are real. Such as the small scandal the young girls cause when they are on the shoulders of the boys at the beginning of the film, this is something that I had lived with with the girls in my family at that age during adolescence.
'And there are other situations that are not necessarily autobiographical but are documented for the needs of the script such as the scene of the wedding night of Selma, when she is brought to the hospital because she did not bleed. It was something which the doctor told me happens," she responded.
"You said in the chamber that his film unites your European and your Turkish soul. Is this a strong message you are sending to Turkey which has been knocking at the gates of the EU?" asked Margherita Sforza.
"Europe has always been something that had to be invented. And I have a very high opinion of the values it represents. I have always been in between France and Turkey. And I don't have an ownership relationship between France and Turkey. I have a relationship like an adopted child. So somehow I cherish European values in particular and I find that today we do have to make them exist," Deniz Gamye Erguven concluded.