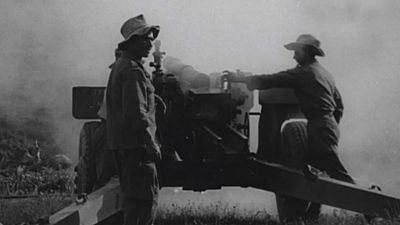 'Eyes that Burn' opens in 1986 as a young woman arrives at Roissy Airport to collect a military trunk that is being returned to her.
The trunk contains the personal items of John Péraud a photojournalist killed in the war in Indochina in 1954. A discussion begins between her and Péraud's journalist colleagues also there.

"Les Yeux brûlés" de Laurent Roth, un diamant noir du film de guerre enfin dévoilé https://t.co/JqaBMc4gcRpic.twitter.com/US5RMfIrHS

— Télérama (@Telerama) November 13, 2015
The dialogue questions the role of war reporters, are they witnesses or committed fighters? How has war affected them. The woman is suddenly immersed in their stories. She has to lose herself in order to understand the masculine narrative that is war.

'Les Yeux Brules': Cannes Review http://t.co/ZiGyhK18EQ#Wovie#moviepic.twitter.com/TpSUUihdqz

— Wovie News (@WovieNews) May 20, 2015
'Eyes that Burn' is a film that marries fiction with military footage it was commissioned by the Institution of Communication and Audiovisual Production of National Defence and filmed without any written dialogue. The resored film was an official selection at Cannes Classics.
It is an hypnotic film with mesmerising testimonies by the war reporters some of whom can hardly open their eyes as they recount their experiences. A profession that demands death is recorded.
Enjoy the film have a good week.