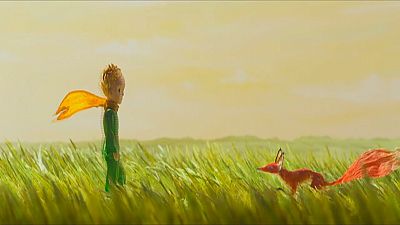 ''The Little Prince' is the big screen adaptation of the book of the same name by Antoine de Saint-Exupéry.
One of the most beloved children's novels of all time and still a best-seller after 72 years, it has seen various more or less successful adaptations over the years.
The pressure was on for film director Mark Osborne, who chose a very personal approach: "The Little Prince provided an opportunity to kind of look within and find a very personal story that I could tell, that would also celebrate this amazing piece of literature. I don't think I ever thought about doing an adaptation before, and this one is an incredibly challenging adaptation, and that's why I chose to do something that was sort of non-traditional and not a true adaptation, that is more of a tribute."
Rather than follow the story of the book, the film tells it through the eyes of a little girl and her neighbour, an eccentric old aviator, who go on an adventure and find the Little Prince.
Five years in the making, the film required the work of hundreds of animation specialists divided into two teams: "From the very beginning, I knew that we were going to be combining CG (Computer Generated) animation and stop-motion animation. So once you go down that road, you are creating a very specific creative aesthetic problem, stop-motion has a very specific look because it's physical objects photographed in front of a camera with real light so we wanted the CG to blend with that, we didn't want to make the CG look like stop-motion, it had to have its own quality, but we used a lot of lighting techniques and atmosphere techniques in the CG to create a similar feel."
Described as a loving 21st-century makeover of Saint-Exupéry's classic, the film premiered to mostly critical acclaim at the Cannes festival, although some regretted its Disneyfied approach.
'The Little Prince' is on global release from now.