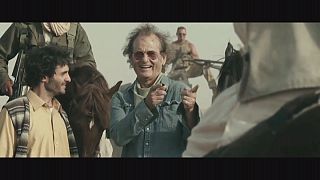 Bill Murray is back with a new comedy.
In 'Rock the Kasbah', he plays a washed up rock manager who takes his last client on a tour of Afghanistan to sing pop hits for US troops in Kabul.
Zooey Deschanel plays the pop singer. Her husband Jacob Pechenik produced the film, which was directed by Barry Levinson, best known for 'Good Morning, Vietnam' and multiple-Oscar winner 'Rain Man'.
At the premiere in New York, which drew a host of celebrities including Lady Gaga, whose fiance Taylor Kinney plays in the movie, Murray said they really pushed the boundaries to get the best out of the script: "I haven't felt this way about a movie in a very long time. I haven't felt this way in a long time – that something unusual was happening, that we were really jumping over what was written and what was expected, making something much better than what we walked into at 6 o'clock in the morning."
Once in Kabul, the pop singer robs the rock manager and flees to the relative safety of Dubai. He is left alone in Kabul, in debt to a deranged mercenary played by Bruce Willis. On the red carpet in New York, Willis explained what he enjoyed about working with Murray: "Because he always changes up his comedy. He has about 17 comedy styles and he brought them all in this film and it's just really fun."
Kate Hudson, who plays a prostitute who befriends Murray's character, says she was nervous about working with him: "I always get a little nervous before movies anyway. But then you work with someone like Bill Murray and you definitely start thinking of all the work that you've admired for so long, you know, I wanted to have good chemistry with him and stuff so… but it was amazing. It was such a great, such a great experience."
As he waits for his new passport, Murray's manager discovers a teenage girl with an extraordinary voice and takes her to compete in a popular TV show. The movie is inspired by true events from Afghanistan, where a candidate chose to sing in a reality TV contest despite death threats.
Described as a pretty implausible feel-good movie, the film has garnered luke-warm reviews with one critic slamming it as a dreadfully misguided farce.
'Rock the Kasbah', starring Bill Murray, Bruce Willis and Kate Hudson, is on global release from now.