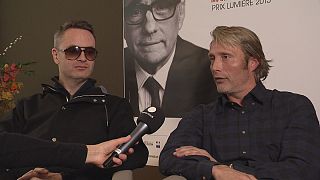 Denmark was given a place of honour at this year's Lumiere festival in Lyon with award-winning actor Mads Mikkelsen and fellow Cannes laureate, director Nicolas Winding Refn, turning up for the event.
The pair agreed to meet up with Euronews to discuss everything from their careers, which are closely linked, to the Dogme movement and B-movies.
Talking about their very first venture together, the now classic low-budget documentary style fiction 'Pusher', Mikkelsen explained how it came about: "It was the energy more than it was something that we were trying to do that hadn't been done before because it had been done, but just not our way, and we wanted to say something our way, and, as you say (addressing Winding Refn), the best thing that can happen is that people get inspired to do their films their way – not our way – just their way."
"I think it's important to do something different, whether it's good or bad is almost irrelevant," said Winding Refn. "Creativity is more about a flow of emotions that's meant to inspire or penetrate or uplift, or affect you, whether you love it or hate it, that's the purpose of it. So I always say: diversity is king."
According to Mikkelsen, 'Pusher' is the film that inspired Lars Von Trier and Thomas Vinterberg's influential Dogme 95, an avant-garde filmmaking movement that excluded the use of elaborate special effects and technology.
"We did the film without any rules, without any rules of lighting or money or costumes or sound. We did it because we had no money," he explains. "I mean if we'd had more money we would have put it in the film, and I think that rock'n'roll energy was an inspiration, and if they (the Dogme movement) don't want to admit it, that's fine with me," he said with a smile.
The pair went on to shoot two sequels to 'Pusher'. With growing fame came extra money to fund movies, which led to Nicolas Winding Refn's highly experimental Viking movie 'Valhalla Rising', also starring Mads Mikkelsen.
"We're not very similar, we don't really associate outside of work, we're very far from each other," said Winding Refn of his relationship with Mikkelsen. "But when we work it's like we're united as one person, and it was that from the beginning, and I don't know how to better explain it than when it works, you know, don't stop."
A former ballet dancer who only came to acting at the age of 30, Mikkelsen has proven his extraordinary versatility, culminating with his Best Actor award in Cannes for 'The Hunt' in 2012. A year earlier, Winding Refn won Best Director for 'Drive' – a typically dark tale about violent men.
"I believe that within that darkness there is also an enormous amount of light as well, and you can see a lot of humour in Nicolas' films, or as I used to say, 'Well, Buster Keaton never smiles… Oh yes, he does! And when he does, the sky opens up like crazy, right?' And I think that's the thing we have both fallen in love with: there is a lot of light inside the darkness," said Mikkelsen of his friend's movies.
Winding Refn, ever the provocateur, was at the Lumiere Festival to present his new book featuring a unique collection of film posters from 1960's American B-movies: "I like, of course, anything that is extreme cinema but I also like cinema that was made under censorship because in a way it's much more sexy when it's subliminal, and also the kind of pop cinema that we refer to (in this book) is very anti-authority, very rebellious, and I think that's an important part of creativity, to always rebel against good taste."
Questioned about their future projects, Nicolas Winding Refn promised his upcoming 'The Neon Demon', starring Elle Fanning, Christina Hendricks and Keanu Reeves, would feature a female-dominated cast for once. About his role in the next Star Wars movie, Mads Mikkelsen quipped: "If I said just one word about it, I would be crucified and burned and hanged tomorrow so that's going to be a loose-loose situation for me!"