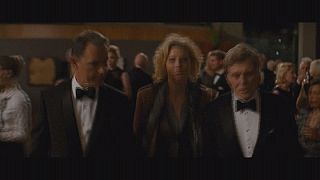 Cate Blanchett and Robert Redford team up in 'Truth', a political drama set in the lead-up to the 2004 US presidential election.
It is based on the true story of longtime CBS news anchor Dan Rather and producer Mary Mapes who chose to air a controversial news report that accused then-president George W. Bush of relying on his father's political advantages to avoid being drafted into the Vietnam War.
"Everything that happens in the film – there's nothing made up. And I think the film is like a glass of water, it presents the events as they happened and then throws it back to the audience to say 'Well how do you feel about corporate media ownership and its proximity to politics?' And I think it transcends cultures. Yes, it's very particularly a story about American politics and American media ownership, but those questions are relevant whether you live in Europe or Australasia or in the States," said Blanchett at the film's Beverly Hills premiere.
'Truth' marks the directorial debut of James Vanderbilt, better known as the writer and producer of films like 'Zodiac' and 'The Amazing Spiderman' and 'The Amazing Spiderman 2'. While it differs from his earlier work, he says the film was a project close to his heart.
"I love movies where you can kind of go behind the curtain and sort of see how things are done and how things are made and so, I love the idea of doing that with television news and this seemed to be the perfect story to do that with because there were so many facets of what happened and being able to do it with somebody like Cate and see it through her eyes, see it through Mary Mapes' eyes, was really exciting to me," said Vanderbilt.
Vanderbilt has been commended for the keenly focused intelligence and low-boil intensity of directorial de but, with Cate Blanchett, once again, garnering unanimous critical praise for her performance.
'Truth' is out this month in the US and early next year in Europe.