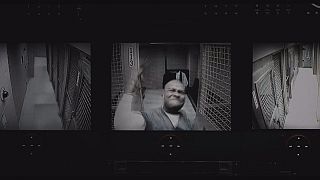 'Captive' is a thriller based on the real story of Brian Nichols, who was on trial for rape in 2005 when he escaped from custody and murdered the judge presiding over his case and 3 other people.
After his murderous rampage, he takes a young waitress struggling with drug addiction hostage in her flat. The encounter between the two turns out to be a a pivotal moment in both their lives.
Co-stars Kate Mara and David Oyelowo were in New York for the film's US premiere.
"There's no denying that Brian Nichols broke lives that are still broken today from what he did," said Oyelowo, "but there's a chance that murderous tirade that he was on could have continued and Ashley Smith wouldn't be with us now. I somehow think the compassion she showed him that night is what helped him turn a corner and effectively changed her life and that's a really, great redemptive story."
Smith went on to recount the experience in her memoir crediting the bestseller by evangelical Christian pastor Rick Warren, 'The Purpose Driven Life', for playing a crucial role in her escape and her ability to convince Nichols to turn himself in.
"I don't think you have to have had this crazy life or death experience to relate to this story and to relate to Ashley's amazing sort of comeback in life," said Mara in New York. "And that's what I loved about it. I loved that it doesn't matter what religion you are, you can completely relate to this story."
While critics have unanimously praised Mara and Oyelowo for their performances, the film has received mixed reviews with some deploring its lack of energy and bland script.
'Captive' is out in the US, UK, Ireland, Canada and Germany this month.