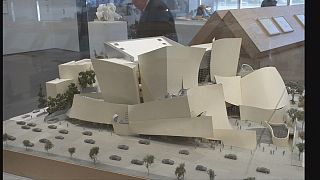 The Los Angeles County Museum of Art is celebrating the creative work of famed Canadian architect Frank Gehry.
Featuring more than 200 drawings and 66 models of his works, including The Walt Disney Concert Hall in Los Angeles, the Louis Vuitton Foundation in Paris and the Guggenheim Museum in Bilbao, the exhibition looks back at the celebrated architect's career from the 1960's to today.
Gehry himself admits that bringing the collection together was not easy.
"I don't look back easily, I don't bring myself to look back," he said at a press conference. "So we don't photograph our stuff or anything. We just put it in crates and I never know what's in those crates. So I couldn't do it, it would have been painful, partly because there are a lot of those buildings that I really love that never got built."
One of his best-known works, Bilbao's titanium-clad Guggenheim Museum, is an emblematic building which contributed to the economic revitalisation of the Basque city.
The Louis Vuitton Foundation in Paris is one of Gehry's latest creations. Covered in twelve glass sails, it stretches over 11,000 square meters and has often been compared to an iceberg or a large vessel.
The revolutionary and sometimes controversial architect is philosophical about the reactions his buildings arouse: "I'm an architect, so I don't presume to make sculpture. The lines between architecture and sculpture in today's world have become very defined. So I don't want to argue with anybody about what's what. Beauty is in the eye of the beholder, finally. You call it what you want."
The Frank Gehry retrospective runs at the Los Angeles County Museum of Art until March 20th.