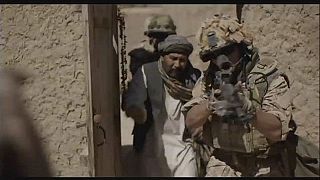 Danish director Tobias Lindholm is teaming up again with Pilou Asbaek of the hit tv series 'Borgen' for the drama 'A War' screened at the Horizons section of the Venice Festival.
The pair last worked together on the critically acclaimed 'A Hijacking'. This time, Asbaek stars as Claus, a Danish solider stationed in Afghanistan. When he and his men come under heavy Taliban fire, Claus is forced to make a decision which has serious consequences for him and his family back in Denmark.
"Afghanistan is the first war Denmark ever fought abroad and it is, if anything, defining my generation of young men in Europe, so I thought it was an important subject to put your eyes on," said Lindholm.
The film is due for release in Denmark this week. Asbaek says he hopes it will make people think: "I don't think it's our job to give answers, I think it's our job to ask questions and Tobias' film, 'A War,' is absolutely a film that when I ask some questions about 'How can we kill in the name of democracy? How can we have these young soldiers do what we chose them to do in Afghanistan or Iraq or whatever?'"
The war in Afghanistan is also the theme of 'Man Down', another movie screened in the Horizons section, by Italian-American director Dito Montiel.
It follows the friendship of two American Marines who grew up together in the suburbs, enlist in the army and serve in Afghanistan.
US actor Shia LaBeouf talked about working with co-star Nick Jones Jr, a former soldier in the Marine Corps.
"You get as close to the war as you can, so me and him were around each other around every minute of every day, pretty much. We basically lived together me and Nick. He picked me up in the morning, we ate every meal together, we talked about everything, all the time. So you stay in that, and he stays in the same mind-set, so you're asking a lot of each other and there's really, what do you call that job? I don't know what that job is, it's like a coach, it's more than that," said Labeouf.
So far, 'Man Down' has received luke-warm reviews on the film festival circuit with one critic calling it an awful mess of a movie and another a boring war film. No release date has been announced yet.