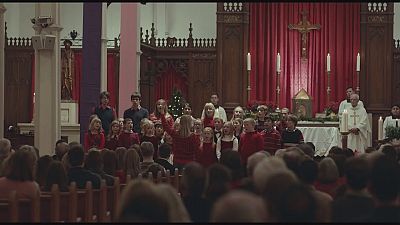 Actors Mark Ruffalo, Stanley Tucci, Rachel McAdams and director Tom McCarthy were at the Venice Film Festival to present the movie 'Spotlight'.
The title refers to the the Boston Globe's Spotlight team – the oldest continuously operating newspaper investigative unit in the United States.
In 2002 the paper broke the story of a systemic cover-up of over 80 abuse cases. Their coverage of the Massachusetts Catholic sex abuse scandal won the newspaper the 2003 Pulitzer Prize for Public Service.
"What you realise in the film – it's systematic cover-up. It's not just the church, it's the police and the legislative body, it's the politicians, it's the power structure of Boston. It goes so deep into the community," said actor Mark Ruffalo while Stanley Tucci added: "We want to know the secrets. We want to know those secrets, particularly when it's something systemic, when it's as large and as powerful an institution as the Catholic church."
Remarkably the Boston Globe itself had evidence of abuse 10 years before the campaign began but somehow contrived to downplay and bury the story and it took a new editor, non-Boston and Jewish to get the investigation started.
"It's the best time to be in the corruption business because serious, professional journalism has been decimated in our country and I'm sure in your country. So citizen journalists can't solve these problems. They can tweet about it, put it on their Facebook page, if they know. But do they have weeks and months to spend at court houses, following cops, talking, interviewing people? No. Most people have jobs," opined director Tom McCarthy.
Spotlight will be released in cinemas in America on November 6th.