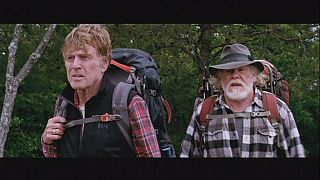 Robert Redford is making his silver screen return with a comedy. A Walk in the Woods is the film he has been trying to get off the ground for more than a decade. Originally Redford had planned for Paul Newman to be his co-star until Newman's health declined and he passed away in 2008.
A Walk in the Woods is a story which explores masculinity and male friendship, Redford explains what exactly brought him back in front of the camera after a long hiatus.
"Nature was going to be the third character in the film so that was very appealing. The fact that it was a comedy because I hadn't done comedy since 'Barefoot in the Park' and I love comedy. But there was also another element of pathos to it because it was about friendship. It was about friendship that had been lost and now is regained through this experience."
Based on the Bill Bryson novel by the same name, the comedy tells the story of two retired buddies and their attempt to hike the nearly 2,200 miles Appalachian Trail from Georgia to Maine.
It charts not only their struggle with nature, but also with themselves and their ability to reconnect with one another.
"He is not particularly prepared. He's not emotionally prepared," remarks Redford about his character in the film. "He's emotionally spirited to do it but he's not emotionally prepared to suffer whatever consequences come of it. He just has to do it so it's really kind of a life lesson want to do whatever you want to do, you think you want to do, just go do it."
Also starring Nick Nolte, Emma Thompson and Kristen Schaael, A Walk in the Woods opens in U.S. theatres from September 2nd.
"Here's a rule: If you have Emma Thompson in your movie, use her" — IndieFocus</a> on A Walk in the Woods <a href="http://t.co/czCYMJTt2V">http://t.co/czCYMJTt2V</a></p>&mdash; Laurie Ochoa (Laurie_Ochoa) September 2, 2015