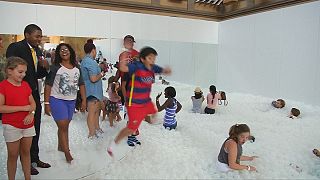 Locked in the capital of the US and miles from the coast is Washington's downtown beach where crowds of revelers dive into an 'ocean' made up of almost one million recyclable translucent plastic balls.
It's simply called The Beach and is a partnership between the National Building Museum and Snarkitecture – a New York based studio whose work is focused on using or misusing existing architecture to perform the unexpected.
"The response to the beach has been just unlike anything we ever could have imagined. We've had some of these big installations in the past, but we have never had this many people come out or this much kind of attention. I think it's been 50,000 people already in just over two weeks of being open and we will be open through Labor Day at the end of the summer," explained Brett Rogers Vice President Marketing and Communications, National Building Museum
"The Beach" provides the quintessential summer experience transforming the museum's monumental great hall into one big sensory playground with a spectrum of summer-themed activities. Diving into the pool was for some an unexpected experience.
"It's actually, I was saying it's really unnerving because you get sucked under and I feel like I am drowning. And then the balls cover your face and it's a little bit scary, because you're not sure if you can get back up, but you have to come with a buddy for sure," explained one beach goer while another added: "Everyone's having a good time and this is a very awesome interactive art piece. Honestly I love it."
Many popped in after a day's work and a chance to forgot the pressure's of the office.
"So this is absolutely a stress reliever after working nine to five thirty. And I can just come here, jump into a pit full of balls and just relax and its awesome," said one of the "swimmers".
Others were having a day out at "The Beach" to re-live childhood memories.
"This is the first time I've ever been in a ball pit let alone white balls. And it's just a lot of fun. It's a lot of fun to be a kid, you know, for a change," said another woman enjoying a 'dip'.
"The Beach" is part of the museum's annual Summer Block Party, a collection of programming, exhibitions and events for all ages. Washington's three thousand square metre 'ocean' will be open in the National Building Museum until the beginning of September after which time the waves will fall silent.