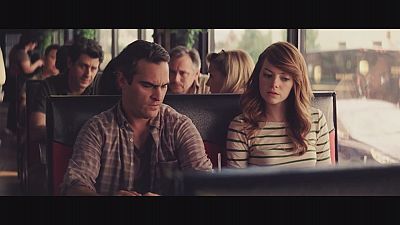 Treading on familiar territory, Woody Allen's latest offering Irrational Man is a dramedy starring Emma Stone and Joacquin Phoenix in the roles of student and professor who embark on an ill-advised romantic adventure.
Critics have slated the film and Allen's latest go-to muse Stone appeared unable to commit her feelings on the film to words at the US premiere.
"Well, this movie — I don't even know how to describe it usually. It's basically just kind of an exploration, I guess, of luck and fate and turning your life around and being drawn to things that are darker than you, for most of these characters, and the consequence of that."
Emma Stone, Parker Posey, and Joaquin Phoenix cozy up at the Irrational Man premiere: http://t.co/c22Why937qpic.twitter.com/iwy8IjW60Z

— InStyle (@InStyle) July 11, 2015
A recurring theme in Allen's films, existentialism pops up as a plot device once again.
For Phoenix, who has to convincingly portray a philosophy professor, the subject proved challenging.
"It's hilarious because I'm reading 'Critique of Pure Reason' in (philosopher Immanuel) Kant's book, and I opened it up and (shakes head) I was like, 'O.K. Not enough.' And I met with a philosopher in New York and he was like, 'Don't. Don't even bother with that because…' So then I just went to 'Philosophy for Dummies' and, still, I mean I had about a month to pull it together and it's so deep, it's so complex and mind-bending, but really interesting, really interesting stuff, but impossible for me to retain."
After having its world premiere in May at the Cannes Film Festival, the movie hits the silver screen now.
But those in the UK will have to wait until September 11 to make their own judgement.