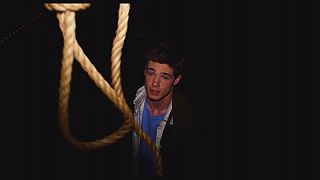 A high-school student is killed in a terrible accident during a school production called 'The Gallows.'
On the 20th anniversary of the tragedy students recreate the production in honour of the teenager.
Somethings are better left alone.
Every school has its spirit. #TheGallowspic.twitter.com/5v1pHZ1uFa

— The Gallows (@TheGallowsMovie) July 9, 2015
Travis Cluff is co-director and co-writer: "Chris and I were both involved in theater and all those things. And there were just all these crazy superstitions: ghosts in the theatre. And then schools, schools are just scary enough as they are during the day, with all of the social pressures. But at night when you're trapped, or you're there late at night at a play rehearsal or something, there's a completely different eerie vibe. And we tried to capture that in the movie."
At #SDCC? There's still time to check out @TheGallowsMovie Screening tonight at 10! Tix here: http://t.co/QtTC0ipIqlpic.twitter.com/QoNRkNeNly

— CryptTV (@CryptTV) July 8, 2015
The events on screen are seen through the camera of one or more of the characters involved, often accompanied by their real-time off-camera commentary, a video-amateur style popularised by the 1999 horror film The Blair Witch Project.
Actress Pfeifer Brown explained how it works:"You know, we started with a very guerrilla style. Ryan filmed most of it himself. The directors would put us up in the attic and we'd have a walkie-talkie and they'd tell us what to film and we'd do it."
The cast also had to slap on their own makeup as actress Cassidy Gifford explains: " I had my own makeup bag every day when I came on the set, which was kind of cool, because none of us looked great. You looked crappy most of the time. We're crying. If you looked perfect all the time, it kind of takes away from the realness of it."
"The Gallows" is now on worldwide release.