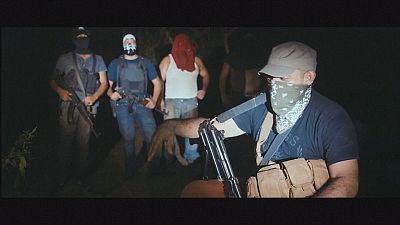 "Cartel Land" is a new documentary directed by Matthew Heineman about two citizens action groups in Mexico City and in the US who rise up and make a stand against the drugs mafia.
It is people taking justice into their own hands where governments have so patently failed. These vigilante groups fight against their mutual enemy, and their members come from all walks of life. The film shows the daily life of one, Dr. Jose Mireles, a small-town doctor who leads his Autodefensas group against a deadly enemy, the violent Knights Templar cartel.
At the same time in Altar valley, a 83-kilometre-long desert corridor in Arizona known as "cocaine alley", army veteran Tim "Nailer" Foley leads a paramilitary group, Arizona Border recon.
46
"I embedded myself with both groups over a year and, as I said, the film and the story went in a direction I could never have predicted. But part of the story too is about what provokes men and women to do that? What provokes men and women to rise up in arms and I think, it's a very complicated story and each person has their own motivations," says Heineman.
The Mexican group was created by civilians fed up with the rampant political corruption that was allowing the gangsters a free hand. Their on-screen opinions of President Enrique Peña Nieto are damning.
"With people in America, I hope that they see this film and realise that there's a war that's happening in the country just south of us, a country that we share so much history with and that we're connected to that war and I want to show people that. I think here in Mexico, I really hope that people, that this film shows people a world that they sort of know about but it shows it first-hand and that the film starts a very important dialogue," says Heineman.
The film abandons notions of good and evil. Instead it asks questions like 'is it right to fight fire with fire?', and 'who decides when might is right?'.
Heineman's film won two major awards at the Sundance film festival, and is out now in the USA.