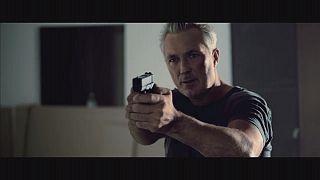 In "Age of Kill" Martin Kemp plays Sam a father who is forced to go on a killing spree in order to protect his kidnapped daughter.
For Kemp, who is best known as the bassist in the 80's new wave band Spandau Ballet it is a return to movie action in this thriller. He's delighted to get back to work in the movies a thing of the heart he says.
"You know, I do a lot of stuff and I play with the band and I do a lot of presenting, but in my heart what I really wanted to do was to get back into some acting and this seemed like a great project," he admitted.
Violence bubbles through this British film directed by Neil Jones. Perhaps it should be no surprise to find Martin Kemp playing a role like this. He is often seen in action films most famously the violent screen memoir of the life of the Kray twins – 'The Krays'.
"Films do represent what's going on around us. The big thing is, the question that's been dogging me my whole career is, 'Are you glorifying violence?' But it's not in a way, what you are doing is reflecting what's happening outside.
'I am not in favour of the nanny state. I like making my own decisions for my own house. And saying what we can and what we can't watch and what we can and what we can't do inside my own house. But I do think films reflect what's going on at the moment and that's what 'Age of Kill' does," he opined.
"Age of Kill" is on release in the UK and on VOD on June 12 and DVD on June 15.