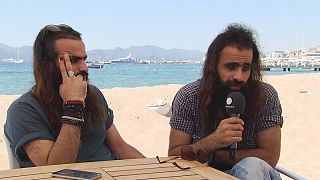 Presented at The International Critics Week at the Cannes Film Festival 'Dégradé'
by the Palestinian twins Tarzan and Arab Nasser is set in a hair salon in Gaza where thirteen trapped women chat, argue and eventually boil over.
Outside chaos reigns.
Tarzan Nasser is one half of the twin team: "This movie is a metaphor for something, like the salon is a metaphor for Gaza, outside the salon is a metaphor of the whole bad situation that all the Palestinians face, the Gazans live it. When we started to write this script, we wanted to say something about Gaza, but how?"
His brother Arab Nasser answers the question:"It is the situation we decided to talk about, life in general. We as Palestinians need to export it, to show our lives to others, my brother believes there is a big misunderstanding about our lives."
The cast mixes some of the best known actors in the Arab world with a number of unknown performers.
Hiam Abbas, starred in 'The Visitor' and 'Exodus':
"I was very interested in this story. I read it and thought how will they turn a months filming into a day in the life of thirteen women, It is not easy to do, but it is something really very beautiful and very rewarding."
This is a rare opportunity to see Gaza beyond the violence where the camera lens provides a clearer picture of the reality of life in the Gaza Strip.