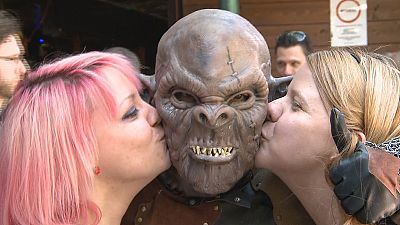 The 11th Budapest International Comics Festival attracted hordes of comic fans to the Hungarian capital.
It is the adult market that is now booming rather than the more traditional children's comics.
Róbert Vass is the event organiser:"Right now comics for adults are more important than kids comics. These days it is really complicated to get into the market by targeting kids."
How times have changed in the not so distant past children's comics flew off the shelves, now due to TV, smartphones and tablets the market is moribund.
"I don't like Japanese comics, I prefer the American and European ones because they are more realistic, they are closer to real life, so for me they appear more believable," said one young comic lover.
Comic fans take the opportunity to dress in the costumes worn by their favourite characters, while others show their drawing skills to a wider audience.
Gábor Molnár is a comic artist. "We are now in the "artist caressing area" which is a popular part of the festival, and here I draw for the visitors, if they want me to. I could draw for myself, but I like to draw for others as I have already enough drawings at home. I have just drawn a female character from my upcoming comics series."
One thing still fashionable is the superhero comic. These come in many forms one Dutch artist dedicates his latest work to Rembrandt:
The artist Typex explains: "I think Rembrandt is not a superhero type. No, no, not really, he is too fat and too old, but he has superpowers definitely. I am not against superheroes but it is not what I really grew up on, I am more into the original way of telling a story, and it can be anything."
Lucie Lomová, is a Czech artist who started out drawing comics for children, her latest book is a detective story. She says the Czech Republic is in the same situation as Hungary, comics are not that popular, but she sees that the situation is improving.
"We are both countries with a small readership, so it is obviously difficult to publish comics in our mother language. But in general in Czech Republic the situation is improving and now comics are experiencing a boom."
This is what the organizers want, comics to be trendy again and widely read by both young and old.