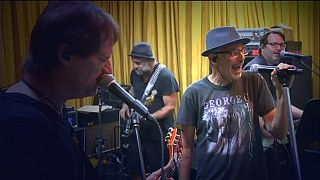 Between acting, writing and directing, Billy Bob Thornton was a musician long before he became a movie star and has been releasing music alone and with his band for years.
Now, the 59-year-old performer and his band The Boxmasters have released their fourth album, 'Somewhere Down the Road'.
It's a double album, with one disc emphasizing the band's fascination with Sixties L.A. rock, and the other leaning more toward roots-country music.
"The solo records were more sort of moody, singer-songwriter-y," explains Thornton. "More influenced by John Prine and Kristofferson and Johnny Cash and like JJ Cale, things like that. So the way we really sound when we just naturally play is what this record sounds like. And we have two records, and as a result we made a double-record set."
Made up of Thornton, guitarists J.D. Andrew and Brad Davis, and keyboardist Teddy Andreadis, the band was born in 2007 and has earned a solid reputation with its three previous albums.
Thornton, who writes most of the lyrics, recently married for the sixth time. He says each song is personal to him – but some are more likely than others to get him into trouble.
"One of the worst things for any of us is when we write a song and it's about a girl. Because every one of us is married and every one of us gets a good ass-chewing every now and then. So it never fails – it never fails – 'Who is that about?' Well it's not about anybody, really. It's a mixture of several people. But if you write one that's like a negative song about a girl, they're always convinced it's about them," he says.
The latest album by Billy Bob Thornton and his band The Boxmasters, 'Somewhere Down the Road', is out now.