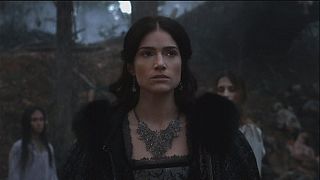 After the success of the first season, the witches of 'Salem' are back.
Inspired by the infamous 17th century witch trials that took place in Massachusetts, the first series broke all audience records for US cable and satellite channel WGN America.
The series stars Janet Montgomery as Mary Sibley, the dominant witch.
"'Salem' is a sort of fantasy show based in the 1600s which mixes historical events that happened with the Salem witch trials. But it's sort of a new take on it, where the witches were the ones who were instigating the trials. So there were witches and I think it's a really interesting take on a story that people don't know much about," says the British actress.
These are good times for television overall, especially for shows that deal with the supernatural. 'Salem' is up against other popular shows like 'American Horror Story', 'Teen Wolf', and 'The Walking Dead' to name but a few.
According to Montgomery, TV is the best avenue for storytelling at the moment: "For me, is a television is a form that I like to tell stories in because I grew up not going to the cinema. I grew up very working class and television was the story telling that I got the most of, so I feel like creating characters and telling stories that are accessible to everyone is quite important," says Janet Montgomery.
Fans of the creepy, haunting, sexy show can get their fill of season two from now on WGN America.