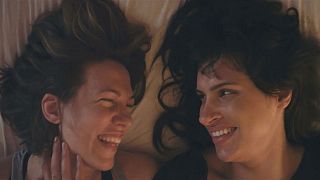 Desiree Akhavan makes her feature film debut with festival favourite 'Appropriate Behavior'.
Written and directed by Akhavan, who also stars in the movie, it centers on Shirin, a young Iranian American woman struggling between being an ideal daughter and dealing with her bisexuality.
While she shares a lot of similarities with her character, Akhavan says the film in not about her:
"The film isn't autobiographical in that the events in the film haven't taken place, but at the time that I was writing it I was dealing with the aftermath of having come out to my Iranian parents and a really messy breakup. So, I wanted to inject those emotions into a different scenario and kind of poke fun at myself in a very heightened, absurd, non-realistic depiction of my best and worst qualities."
Successfully using humour as a shield, the film, described as funny, risky and in excitingly bad taste, has earned mostly positive reviews on the festival circuit.
Akhavan, who also wrote, directed and acted in the lesbian-themed web series The Slope, admits that taking on all of these roles can be hard work: "At first is was challenging. I think there were moments when I was on set and the camera was rolling and I was supposed to be acting in a scene and I would completely lose focus.
"At one point there was a lull in the conversation and I was like 'Who is missing their line?' And it was me, I had missed my line and I had no one else to be angry at. So, after that moment, I made a choice that when I was on camera I was going to drop the director side of my brain and when I was off camera I was going to let go of my acting nerves or responsibilities and completely focus on the task at hand," she explains.
After opening in the US last month, 'Appropriate Behavior' is out now in the UK.