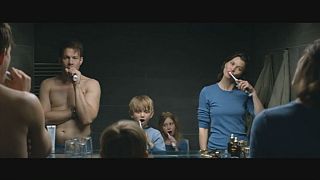 'Snow Therapy' is the story of a perfect little Swedish family that has come to the French resort of Les Arcs for a few days skiing.
Everything is going smoothly until a controlled avalanche snow-balls into a crisis threatening the whole family.
While no-one is hurt, the harm is done after the father flees the scene taking with him only his mobile phone.
Their world starts to fall apart, as denials, cracks and contradictions emerge.
'Snow Therapy' is a claustrophobic story set against the backdrop of the wide open mountains, delivered under the perfectly cool and controlled direction of Swedish director Ruben Ostlund.
Despite some lengthy scenes, you will enjoy the ride along this unusual kind of therapy, which will inevitably leave its mark on the immaculate slopes of your convictions.
Enjoy the movie and see you next week.