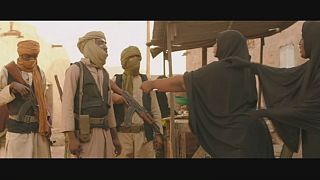 This week's movie is 'Timbuktu' by Mauritanian director Abderrahmane Sissako.
Based on real events, this passionate and beautifully shot film tells of the invasion of Timbuktu by radical Islamists who want to impose Sharia law.
The story revolves around a touareg herdsman, who leads a peaceful life in the desert with his family. Initially spared, he faces the harsh new Islamic law after a deadly feud with a local fisherman.
A master story-teller, Sissako refuses to fall into the good versus evil cliché.
Instead, he focuses on characters driven by the very contradictions of human nature, thereby exposing the hypocrisy of those who want to impose Sharia. In one scene, armed djihadis are calmly but firmly told to leave the local mosque by its moderate imam.
When ordered to wear gloves in public, an angry fisherwoman tells her tormentors to cut off her hands.
Despite the tragic events unfolding in the city, where inhabitants are being lashed and stoned, 'Timbuktu' will also make you smile. The most magical moment is when local boys continue to play football with an invisible ball after the game is banned.
'Timbuktu' – a movie you shouldn't miss by one of the strongest voices in African cinema.