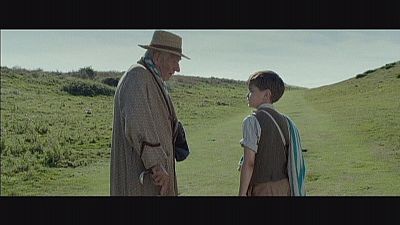 Crowds gathered at the world premiere of 'Mr. Holmes' at the Berlin film festival in the hope of getting an autograph from the legendary Ian McKellen, who stars as an elderly Sherlock Holmes in the movie.
Directed by Bill Condon, the film is an adaptation of Mitch Cullin's novel 'A Slight Trick of the Mind'. As his memory begins to fail, the ageing detective tells his housekeeper's son about his life.
"I get to play the real Sherlock Holmes that everybody knows, solving the case in Baker Street, and then many, many years later looking back on himself as a rather different Sherlock Holmes," Ian McKellen explained in Berlin.
The 75-year old actor joked about the ageing make-up process required to play a character nearly 20 years his senior: "It was a bit alarming because it didn't take long to do because of the technique. They put this rubber on your face. I've got a hat on and I was sort of hunchback like this… (pause). But I am glad to be on television to show you that I'm not quite as old as I look in the film."
The youngest member of the cast, Milo Parker, who co-stars alongside Sir Ian as the housekeeper's son, said he was thrilled to share the screen with the actor best known among the younger generation as Gandalf, his character in 'Lord of the Rings'.
"I learned a lot from Ian on the basis that he is a really nice man and he is also an amazing actor. I mean he's Gandalf (laughs). He taught me lots of things like little glances and hesitations, they all make a difference to put together a really good movie," said the young actor at the film's press conference in Berlin.
The movie opened to mostly critical acclaim in Berlin with positive reviews for Ian McKellen and Laura Linney's performance as the housekeeper, though one critic said it was hampered by relying (too heavily) on its flashback sections.
'Mr. Holmes' is set for global release next summer.