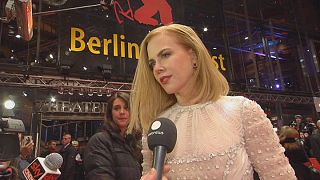 The stars were out en masse to grace the red carpet on opening weekend at the Berlin film festival, but one celebrity was sorely missed: Iranian film-maker Jafar Panahi . He is banned from leaving his country but his latest movie 'Taxi' runs in the official competition.
One of the most influential film-makers in Iran, Panahi was charged with propaganda against the Iranian government in 2010, and sentenced to jail. He also received a 20-year ban on directing movies and was forbidden from from leaving the country.
For his latest film – which has no credits so cannot be officially attributed to him as a director – he gets around the ban by filming inside a taxi. He takes on the role of the driver, who chauffeurs an eclectic mix of passengers including actors and friends around Tehran, recording the conversations with them.
Also missing on the red carpet was French actress Léa Seydoux, who stars in Benoît Jaquot's 'Diary of a Chambermaid' alongside Vincent Lindon.
The young actress, who shot to global fame for her portrayal of a lesbian lover in 'Blue is the Warmest Colour' – which shared the top Palme d'Or prize in Cannes two years ago – was held back in London for the shooting of the new James Bond movie.
Following in the footsteps of Jean Renoir and Luis Buñuel, Benoit Jacquot uses Octave Mirbeau's classic novel of the same name to cast a sardonic eye on the French bourgeoisie of the early 20th century. Seydoux plays chambermaid Célestine who wants to escape servitude by just about any means possible.
Jacquot said he knew he could entrust her with the film, which is running in the official competition.
"Knowing her, having already made a film with her, I knew she would bring something completely fresh, that we would be able to make a film together like it was the first time," he told euronews.
Taking the red carpet by storm, global celebrity Nicole Kidman and James Franco, who star in legendary German film maker Werner Herzog latest movie, 'Queen Of The Desert'.
Kidman plays Gertrude Bell, also known as "the female Lawrence of Arabia", a British explorer, historian, novelist and spy, who played a decisive role in setting the course for the new political order in the Middle East in the 1920's.
"I hadn't even heard of Gertrude Bell until Werner sent me the script and that's something I think is a travesty. I mean, she really is on a par with Lawrence of Arabia and yet, because she is women and she didn't publicise herself… For many different reasons, her name is not known. So even if this piques peoples' interest slightly, that's a good thing as far as I am concerned, she was fascinating," said Kidman on the red carpet.
Werner Herzog is best known for his movies with German actor Klaus Kinski. Most of them, like 'Aguirre, the Wrath of God' or 'Coba Verde', were shot in the South American jungle under harsh conditions.
"So why are you sending your actors to the desert this time?," asked euronews correspondent Wolfgang Spindler. "You used to send them to the jungle…"
"Because the desert is an inner landscape, a landscape for the soul. In the same way as the jungle is not just a scary forest but a place of feverish dreams, for me, the desert is this vast landscape, like a huge metaphor of what's happening inside a character," replied Herzog.
Maybe 'Queen Of The Desert' will become Werner Herzog's winning film. The 72-year old director has never picked up the top award at the Berlinale.
In all, 19 movies are vying for the Golden Bear, which will be announced on Valentine's Day.