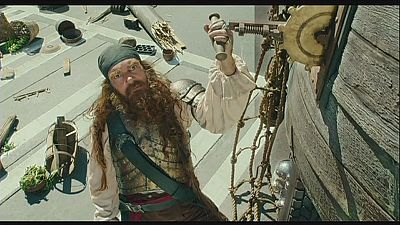 SpongeBob fans around the world can rejoice.
More than a decade after the original movie adaptation of the SpongeBob Squarepants series, the sequel 'The SpongeBob Movie: Sponge Out Of Water' is finally out.
In the movie, SpongeBob and his friends have to enter the surface world to find the villainous pirate Burger-Beard, played by Hollywood actor Antonio Banderas, who took his role very seriously.
"When you do a kids movie, you have more possibilities to expand your acting in different ways. You feel more free to do things, especially in a movie like that with a pirate, which has always been a very romantic character, a free spirit. And in the context of a very real movie, if you will, with an international phenomenon that actually should be analysed because it's very interesting to see how this character appeals, not only just to kids, but to a very large amount of people around the world," said Banderas.
The movie is based on the popular TV series, which chronicles the adventures of SpongeBob and his friends in the fictional underwater city of Bikini Bottom.
The spongy character is now famous the world over, and has been turned into a media franchise worth US$8 billion dollars in merchandising revenue.
"I know that my kids follow the show. And I knew – you have to be blind, to not know – who SpongeBob is because you see him and his image all around the world. In Japan… I was in Kazakhstan doing a commercial last year, and everybody was just wearing tee-shirts with SpongeBob. This is phenomenal. So when they called me, of course you want to be attached to a project like this. I'm actually very happy that they thought about me to play the villain in this particular piece," said Banderas.
The movie has opened to mostly positive reviews with critics particularly impressed by the gags, which they say succeed in pleasing both parents and kids.
'The SpongeBob Movie: Sponge Out Of Water' is on worldwide release from now.