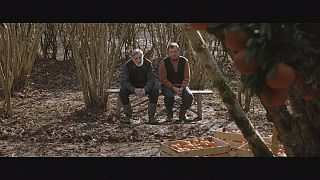 Representing Estonia, 'Tangerines' is one of five contenders for Best Foreign Language Film at the upcoming Oscars.
Set in 1992, during the conflict between Georgia and the breakaway region of Abkhazia, it tells the story of two Estonian men who stay behind in an otherwise deserted village to harvest the season's crop of tangerines. Following a shootout between waring factions on their doorstep, they become unwillingly entangled in the war.
"First of all, this is a very human film and it's a drama about how to remain human in very difficult situations and in very difficult circumstances. So the war is like background only, and this particular war that we are talking about is this Abkhazian war in 1992, this kind of action that we show in the film could really happen in every single war," says the film's Georgian producer, Ivo Felt.
Two of the fighters in the shootout survive. One is a Chechen mercenary on the Abkhazian side, the other a Georgian. The two Estonians take them in and nurse them back to health. Although the two rivals vow to kill each other once they have recovered, the long period of forced cohabitation has its humanizing effect.
It's the first time an Estonian film has been nominated for an Oscar, and Ivo Felt believes it stands a good chance: "Of course, the competition for the Oscars is very, very heavy. We have five very, very strong films and of course we're very lucky to be among them and I would say we have some chance," he says.
'Tangerines' has already garnered critical acclaim and a handful of awards on the film festival circuit.
Rivals for the Best Foreign Language Film Academy Award include Poland's 'Ida', Russia's 'Leviathan', Mauritania's 'Timbuktu' and Argentina's 'Wild Tales'.