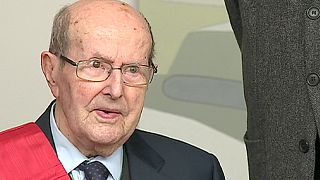 Portuguese cinema legend Manoel de Oliveira has reason to celebrate.
Having just turned 106, he has just released a new movie and received France's top accolade, the Legion d'Honneur.
Retirement has never been an option for the veteran filmmaker, the world's oldest working film director and the only one whose active career has spanned the silent era to the digital age. Having started his career in 1927, he directed his first film in 1931.
Entitled 'The Old Man of Belem', his latest movie is set in the 21st century.
It features a group of historical characters including Don Quixote, Luis de Camoes – Portugal's answer to Shakespeare – and 19th century Portuguese writer Camilo Castelo Branco, who discuss the world situation and past memories of glory and decay.
Through literary references based on works by Portuguese poet Teixeira de Pascoaes and Don Quixote author Miguel de Cervantes, the film is a reflection on Portugal and its history.
Out now in Portugal, 'Old Man of Belem' has been screened at film festivals in Venice, Toronto and New York to critical acclaim.