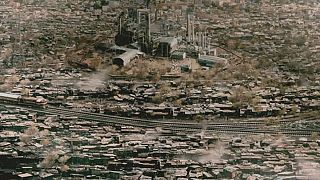 Thirty years on, 'Bhopal, a prayer for rain' dramatises the story of the world's worst industrial disaster, when cyanide gas from an American pesticide factory in India was accidentally released into the atmosphere, killing thousands of people and leaving many more sick or disabled.
The film's director Ravi Kumar hails from Madhya Pradesh state of which Bhopal is the capital.
"Bhopal has been in our conscience for the last 30 years and I think this is the right time to tell the story because time has passed, so there is emotional distance and we can tell this story with an objective point of view," he says.
Officially, just over 5,000 deaths were declared. But it's estimated 25,000 people have died as a result of the disaster, and many more are suffering from cancer, blindness, respiratory difficulties and other disorders.
Rajpal Yadav plays one of the lead roles as a Union Carbide worker.
"What I found really interesting was that they (the film makers) designed the film to show the entire incident unfolding through the eyes of a poor couple working as labourers," he says.
Indian actress Tannishtha Chatterjee plays his wife.
"We have de-humanised ourselves in the greed for profit and money," she says. "And I think the larger picture of the film – which is very important for me – is that it does leave that question in your mind that 'Yes business, yes better lives, yes profits – but at what cost?'"
Critics have described the film as a must-see "for the sheer gravity of the criminal incident that remains unresolved three decades later" but also deplore its "largely underwhelming impact".
Co-starring Hollywood actors Martin Sheen and Mischa Barton, 'Bhopal: a prayer for rain' is on global release from now.