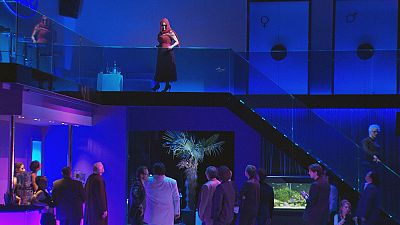 Cecilia Bartoli is one of the greats of the operatic world. The mezzo-soprano is not only the artistic director of the Whitsun Festival in Salzburgshe is also taking centre stage. The theme of this year's edition is 'Rossinissimo'.
"I decided to dedicate it to Rossini because Rossini was my first love. I started my career with Rossini's music," enthuses Bartoli.
It was 'La Cenerentola' based on the fairy tale Cinderella that made the Italian composer famous around the world.
Bartoli says the Salzburg production takes a fresh approach to the opera: "This is kind of a new approach to Angelina, she is more modern. She has to work, she is a real worker. I feel quite close to Angelina, I'm a real worker too."
This production, staged by Damiano Michieletto, has a present-day setting – a self-service restaurant and a disco.
"Τhe role is interesting because the music is interesting," says Bartoli. Every time I'm doing Angelina I feel; 'wow I'm discovering the music' and every time there is something which I feel: Oh I didn't know that. This is what is special about Rossini, it's always work in progress."
It is also a work in progress behind the scenes. The creation of the more than 100 costumes began a year ago. Dorothea Nicolai is in charge of this sartorial treasure trove.
"Each time it's a fascinating process how an idea turns into a drawing and then into a fabric," she says. "Costumes are like a journey through time, a journey through countries or through different social classes."
It is a mammoth task. Fabrics have to be selected, costumes sewn and wigs prepared. It's all about teamwork, passion and imagination.
Dorothea Nicolai, who has known Bartoli for more than 20 years, makes sure that every detail is perfect.
"For me it is really important that the singer feels the costume helps them get in character – as a safety net, and they like themselves in the costume so much that they completely forget about it," she says.
Bartoli agrees: "I love what I'm doing and I'm doing this with a lot of energy and passion. I think passion is the most important ingredient.
"This music needs to be really performed very lively, like sparkling, like champagne."