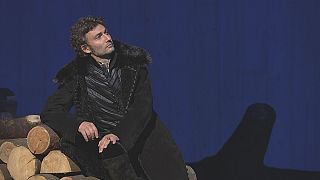 The Salzburg Festival celebrates the bicentenary of Verdi's birth with three of his operas: 'Don Carlo' is one of them – the longest, the most revised, and undoubtedly one of the most beautiful.
For the 2013 festival, 'Don Carlo' is performed in Italian and without the ballet. The passages cut shortly before the first performance in 1867 are also heard, for example the prelude opening the opera with the chorus of woodcutters and their families: an impressive portrayal of the French people's dire situation, caused by winter and the war with Spain.
Keeping the Fontainebleau act makes the preconditions of successive events obvious, and the psychological development of Elisabetta di Valois and Don Carlo — as the protagonists are called in the Italian version — becomes far more compelling.
'Don Carlo' deals with many issues: the complexities of human relations, individual freedoms and awkward communication between father and son.
Antonio Pappano, conductor, told euronews: "In Don Carlo, you have very particular colours, you have the use of the low violin sound, the G string is used quite a lot, just at the very beginning and the combination of the cellos, and the basses together, fused with the bassoons; add to that the horns, and then add to that the trombones, and you have a very somber tonal picture."
Speaking about how the opera develops creatively, Pappano said: "What one remembers is the colour from Act IV to the end, because there, somehow, everything becomes concentrated and focused, and we get into the meat of the drama, the private side of the king's life."
Tormented, vulnerable, passionate Don Carlo, the son of King Philip of Spain, whose father takes his fiancée away to becomes the Queen, has the voice and looks of Jonas Kaufmann, who is considered to be the tenor of today.
Jonas Kaufmann described his character to euronews: "I think this Don Carlo is so much on and off. I mean, he's always jumping back and forth between different ways of thinking. When you think of the duet in the second act, when he comes in and starts very soft and calm, and then suddenly breaks out, really, he's trying to stick to the rules and the conventions, and then, next moment, has to surrender again to his feelings for her."
Kaufmann continued: "As soon as Elisabetta is close by he just [acts]… Again, [Don Carlo] a very easy character to find a lot of different things in it; to organise it, and to bring it all to one line, that's another story."
A sensational cast made this production utterly prestigious, with this music conveyed by Maestro Pappano's talent and exquisite musicality.
Singers include Matti Salminen (Filippo II), Jonas Kaufmann (Don Carlo), Anja Harteros (Elisabetta di Valois), Thomas Hampson (Rodrigo, Marchese di Posa), Ekaterina Semenchuk (La Principessa Eboli), Eric Halfvarson (Il Grande Inquisitore), Robert Lloyd (Un frate), Maria Celeng (Tebaldo), Sen Guo (Una voce dal cielo), Benjamin Bernheim (Il Conte di Lerma / Un araldo reale) and Participants of the YSP (Sei deputati fiamminghi)