'The criminal always returns to the crime scene': Defiant Putin tours occupied Mariupol
Comments
By Euronews with AFP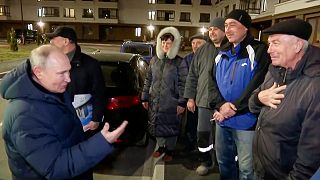 Vladimir Putin visited the devastated Ukrainian city of Mariupol, his first visit to a conquered area since the start of Russia's offensive in Ukraine, after an international arrest warrant was issued for the Russian president.
Putin flew to Mariupol by helicopter and toured the city in a car, the Kremlin press service said Sunday, quoted by Russian news agencies. His visit included stops at Mariupol's Maternity Hospital Number Three, which was bombed in a notorious incident last March, the Philharmonic music hall and a World War Two monument built to commemorate Soviet troops who recaptured the city from Nazi Germany.
According to a video broadcast by Russian public television, the trip took place at night, with Putin being shown in the streets and speaking with residents. "We pray for you," Putin assured one of the residents, saying the city was "a little piece of paradise."
When Moscow fully captured the city in May, an estimated 100,000 people remained, out of a prewar population of 450,000. Many were trapped without food, water, heat or electricity. Relentless bombardment left rows of shattered or hollowed-out buildings.
The Russian leader also visited a reconstructed local musical theatre, where up to 600 civilians are thought to have been killed while taking shelter from the bombings, and followed the presentation of a report on the reconstruction works of this devastated city, according to the Kremlin.
Philharmonic concert hall
In part of the footage, President Putin is seen walking through the interior of a concert hall in Mariupol. 
This is the same building that the UN warned was to be used to stage trials of Ukrainian troops who held out against Russian forces for months in Mariupol's massive Azovstal iron and steel plant. Russia finally gained complete control of Mariupol in May after the defenders surrendered.
Images posted on social media in August - including by Ukrainian authorities - appeared to show metal cages being built on the stage. According to the UN, prosecuting prisoners of war (POWs) for taking part in hostilities is a war crime.
But the trials never took place, as the POWs were later part of a prisoner swap for 55 prisoners from Ukraine, including a pro-Kremlin former MP, Viktor Medvedchuk.
Russian rebuilding and 'restoration'
Norwegian journalist Morten Risberg, who visited Mariupol in December, said he saw "large-scale rebuilding and restoration" amid "destruction everywhere you looked".
"They're changing street names and they're painting over Ukrainian colours with Russian colours, and they're putting Russian flags everywhere," he told sources. Most of the remaining civilians in the city were "just focusing on surviving", he said.
This is his first trip to the Ukrainian port city, which was besieged for months by Russian forces before falling in May 2022.
Ukrainian officials have slammed the visit, calling Putin an "international criminal". 
"The criminal always returns to the crime scene," said Mykhail Podolyak, an adviser to Ukrainian President Volodymyr Zelenskyy. 
According to the Kremlin, before going to Mariupol on Saturday evening, Putin also held a meeting in Rostov, Russia, with Russian army officials, including Chief of Staff Valeri Guerassimov.
On Saturday he visited the port city of Sevastopol in Russian-occupied Crimea, as part of a weekend of 'celebrations' marking the illegal 2014 Russian annexation of Crimea. 
There were events to mark the anniversary in St. Petersburg, as well as Crimea itself where the far-right Night Wolves criminal biker gang, closely associated with Vladimir Putin for a number of years, staged a rally. 
On Friday, the International Criminal Court issued an arrest warrant for Putin for war crimes because of his alleged involvement in abductions of children from Ukraine.
The court said in a statement that the Russian president "is allegedly responsible for the war crime of unlawful deportation of population (children) and that of unlawful transfer of population (children) from occupied areas of Ukraine to the Russian Federation."
A Kremlin spokesperson called the arrest warrant "outrageous and unacceptable", and labelled the ICC's decisions as "legally void."
The ICC said that its pre-trial chamber found there were "reasonable grounds to believe that each suspect bears responsibility for the war crime of unlawful deportation of population and that of unlawful transfer of population from occupied areas of Ukraine to the Russian Federation, in prejudice of Ukrainian children." 
More than 16,000 Ukrainian children have been deported to Russia since the invasion began, according to Kyiv, and many have been placed in institutions and foster homes.
The surprise trip also came ahead of a planned visit to Moscow by Chinese President Xi Jinping this week, expected to provide a major diplomatic boost to Putin in his confrontation with the West.